GERALD ROBERT KINGEN
This is an excerpt from the book Seattle — 150 Years of Progress published in 2001 by Heritage Media Corporation and written by James R. Warren:
The title on Gerald R."Gerry" Kingen's business card reads "Head Coach & Dishwasher" at Happy Guests International, Inc. Kingen also happens to be the founder, president and CEO, and a man with enough talent, ambition and innovative ideas to have succeeded in many different careers. However, he chose to channel his relentless energy and creative restaurant concepts into the food and entertainment industry, becoming an icon in the Pacific Northwest — a one-of-a-kind visionary who has, time and again, taken an idea that has worked elsewhere in the world and integrated it into the local culture. Kingen became successful in the eatery business by exceeding the expectations of millions of people, had fun doing it and made a lot of money, but his success story is not over….
Kingen grew up in his parents' restaurant business, where "childcare" meant a mountain of dishes for Kingen to wash and dry. He went to Washington State University and Central Washington State College to become a dentist, but found it stifling and headed instead to a major ski resort where he ran the food operation. He was not yet 21 years old, but he had 85 employees under him, served 16,000 lunches daily and profited financially in this mountaintop resort.
His success in this venture encouraged him to try his hand in the restaurant industry elsewhere. In 1965, at age 21, he bought a bar that he renamed the Climax Tavern, becoming the youngest Washingtonian ever to obtain a liquor license. He transformed it from an industrial tavern into a popular nightclub frequented by university students. In 1969 he purchased the original Red Robin tavern in Seattle's University District and pioneered the "gourmet hamburger" concept of a fun atmosphere, a unique menu and great service. To meet the liquor board's requirements of an 80 percent food/20 percent liquor operation, Kingen devised a menu that offered 28 different kinds of burgers. The sheer number of burgers sold is mind-numbing, says Kingen, who soon saw Red Robin's gross income grow from $12,000 to $100,000 a month. In the 70s and 80s Kingen expanded the Red Robin chain to more than 50 restaurants.
Over the next few years Kingen purchased or opened additional eateries, including Blue Moon Tavern; Warehouse Tavern and Nightclub; Boondock's on Broadway, where he introduced a 30-page menu and exhibition kitchen; The Great American Food & Beverage Company, which entertained guests with costumed waiters who broke into song every five to 10 minutes; Lion O'Reilly's and B.J. Monkeyshines, a New York steak and lobster house with a bar that was rated one of the country's top 100 by Esquire magazine in 1982; and the Lake Union Café featuring one of the first wood-fired pizza ovens in the Northwest.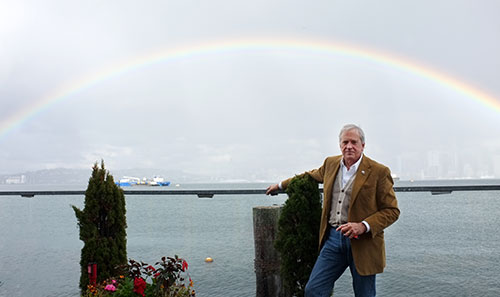 In 1979 Kingen began franchising Red Robin, which he had transformed into an adult McDonald's and a poor man's Trader Vic's operation, with the first opening in Yakima, Washington. In 1984 Skylark Corporation, a Japanese restaurant company, bought 50 percent of Red Robin, and later purchased an additional 40 percent, with Kingen retaining a 10 percent interest. In 1996 Kingen refocused on Red Robin International and was elected CEO and chairman of the board of the now 177-unit chain.
In 1980 Kingen embarked on another creative restaurant concept, Salty's. The first one opened in Portland as the debut of Kingen's chain of waterfront seafood eateries. Salty's at Redondo Beach in Des Moines, Washington, followed in 1981. In 1985 Kingen purchased the Beach Broiler, which was doing $1 million in business; he transformed it into Salty's on Alki Beach, which did $9.6 million in 2000. Salty's on Alki is one of the top three restaurants in its market by volume. In 1999 it was listed as No. 70 in the top 100 largest-volume restaurants in the United States, according to Restaurants and Institutions Magazine. The popular restaurant seats 240 in the main dining area, and every seat in the house has a view of the scenic Seattle skyline. The downstairs banquet facility seats 225 diners, allowing Salty's to compete with area hotels. Because it offers ample parking and is a quick drive from downtown across the West Seattle Bridge, Salty's has a thriving lunchtime trade.
Kingen married Kathryn Hilger, a graduate of the University of Washington, in 1982 and took a 10-year hiatus to devote himself to family life. In 1992 Kingen came out of retirement and reorganized his operations under the corporate umbrella Happy Guests International, Inc.
Regardless of the nature of his endeavors, the common ingredients found in each concept Kingen has developed are commitment to cleanliness, fresh food and teamwork, guest satisfaction and enjoyment, great entertainment and fair value. This has been flavored by Kingen's irrepressible sense of fun and spiced by his complete fearlessness in trying something new. To Kingen, everything is a work of art. When working on a new eatery concept, the question always before him is simply, "Do people like it or not?" From all accounts, the public's answer to Kingen is a resounding "yes."…