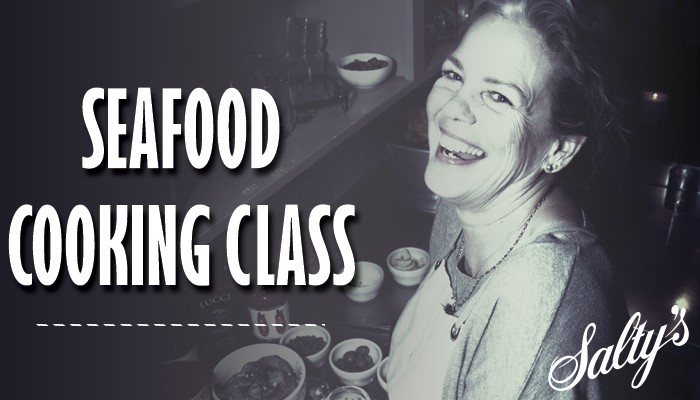 Sharpen your Palate and Culinary Skills
Invest in yourself and unlock your secret cooking powers! Join us for an informative class featuring knife skills, terminology and techniques. Taught by Salty's Executive Chefs, using peak of the season produce and seafood, you'll have the opportunity to become more confidant in knife technique and learn a bit of French vocabulary.
We'll cover chiffonade, julienne, bias cut, fine and medium dice, large chop and plenty more! Ever wonder how to make the delicate yet rich butter sauce for your favorite piece of fish? We'll explore the culinary term "mother sauces" and how trans-formative basic techniques can be to your repertoire. Finally, we will turn on the burners and create a simple yet elegant meal using the vegetables and herbs you masterfully cut, the velvety beurre blanc you made and lastly the beautiful, fresh halibut you so perfectly sautéed.
The Menu
To Start
Fava bean, pea vine and ricotta bruschetta
To Cut
Thyme, basil, carrot, potato, leek, onion, garlic
To Make
Beurre Blanc
To Sauté
Halibut
To Drink
Sauvignon Blanc
To Finish
Spring Meyer Lemon Tart
Locations and Times
Thursday, April 19th, 6pm-8:30pm – Salty's on the Columbia River
Monday, April 23rd, 6pm-8:30pm – Salty's on Alki Beach
Tuesday, April 24th, 6pm-8:30pm – Salty's at Redondo Beach
The Price
Class is $90 per person (price includes ALL costs). To top it off, you'll enjoy spectacular waterfront views and free parking. These classes will fill up quickly so click below to purchase now!
Cancellation Policy
Payments for events at Salty's are non-refundable. If you find yourself unable to attend, you may transfer the reservation to someone else.