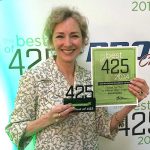 Award-winning food blogger, Kathryn Hilger Kingen is Salty's co-owner along with husband
Gerald Robert Kingen
who founded this seafood restaurant group. Seattle's Eastside magazine
425
readers voted Kathryn Food Blogger of the Year 2015 and 2014! (Read more on
425 Magazine.com
). Kathryn has a degree in Nutrition from the University of Washington. Kathryn Kingen has been blogging about nutrition since the early days of Red Robin - see her first "blog" (they weren't called blogs back then) on "
What's the Stuff on Roughage
?" You'll want to read it for the recipe Oat Bran Muffins.