"Shuck Yeah!" All-You-Can-Eat Bivalves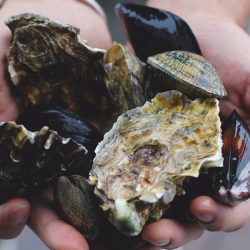 It's that shucking time of year when bivalve lovers from near and far join Salty's in the coolest shucking event in Seattle and Portland, Salty's Shuck Yeah All-You-Can-Eat Bivalves event on Wednesday, November 8th at Alki Beach and Portland. Grab your bibs and bring your smile because this is sure to be a fun event. From 6-8pm, you'll get to feast on local seasonal oysters, mussels and clams with an all-you-can-eat buffet of Salty's Caesar salad, chowder, seafood paella, surf clams with linguine, oil-cured tomato and house-made sausage. Make sure to come on an empty stomach because you'll want to eat everything. We look forward to seeing you.
Make your reservations today!