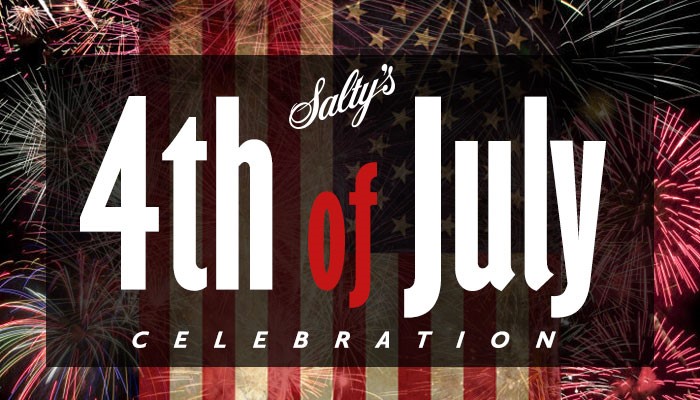 Alki Beach Patio BBQ 2018
| | |
| --- | --- |
| The Location | Salty's on Alki Beach |
| Seating | First Seating 11am | Last Seating 2pm |
| Music | Music with The True Romans 11-3pm |
You are cordially invited to join us in celebration of Independence Day at Salty's on Alki Beach with glorious views of the Seattle cityscape over Elliott Bay. Chef Paolo and his team have created a special menu that celebrates summer in proper fashion. Locally sourced vegetables, seasonal fruits, artisan breads from Georgetown, Fresh Alaskan Salmon, and some of the finest smoked meats from Pecos Pit BBQ. Enjoy live Music by the True Romans from 11am-3pm. For Dinner, try our fresh salmon dishes like the traditional Cedar Plank Roasted Salmon  or our popular Seafood Cioppino. 
  4th of July Menu for Alki ($29.99)
Redondo Beach  2018
| | |
| --- | --- |
| The Location | Salty's on Redondo Beach |
| Seating | First Seating 11:30am | Last Seating 7pm |
| Extended Happy Hour | 12pm – 6pm |
| Music | Music with Kurt Lindsay 12-3pm |
Trying to be by the water or on the beach this 4th of July? Then get down to Salty's at Redondo Beach to celebrate our national holiday! Stroll on the boardwalk, explore the piers, discover the MaST and watch the fisherman pull in their catch. Enjoy live music with Kurt Lindsay (12pm-3pm) while dining on our special Winner Winner, Chicken Dinner. This classic All-American style meal is only available in the restaurant and Fish Bar while supplies last. (SALTY'S ON REDONDO BEACH WILL CLOSE AT 7PM)
*Special Offering*  (available in the Restaurant and at the Fish Bar while supplies last)
Winner, Winner Chicken Dinner
Elliott Bay Fried Chicken
Spicy Cole Slaw
Jo-Jo Potatoes
Corn on the Cob
Buttermilk Biscuit
Chocolate Chip Cookie
Price is $19.00
Columbia River 2018
| | |
| --- | --- |
| The Location | Salty's on the Columbia River |
| Seating | Lunch 11:15-3pm | Dinner 3pm-9:30pm |
| Happy Hour | 3pm – 6pm |
| Music | No Live Music |
The Columbia River is a destination for many on the 4th of July. Why not stop by Salty's on the Columbia River to hydrate with our stellar cocktail menu and fuel your energy the for celebration by dining on our astonishing seafood dishes. Try the Cedar Plank Roasted King Salmon or our Seafood Cioppino to join in The Wild Ones Salmon Festival.
 Special Offering  |  Dry Rubbed Pork Ribs and BBQ Columbia River Steelhead |  $32